Sunday Worship Services 
Sundays, 10:30-12:00

Lunch following service, 2nd and 4th Sundays
Wednesday Night Services
Wednesday nights

after the 2nd and 4th Sundays

at 6:45 in the fellowship hall; a Q&A session generally follows the message.

Wednesday night services cease in November and resume in the early Spring each year. 
Business Meeting/Conference
Following service on 3rd Sundays
Annual Meeting
Weekend of 4th Sunday in May, Friday – Sunday

We generally invite a special guest speaker(s) for this event
Communion/The Lord's Supper
4th Sunday in May following lunch

4th Sunday in September following lunch
Flint River Association of Primitive Baptists 
Association, 1st weekend in October

Union Meeting, rotates on various weekend in April

Meeting rotates each year between churches of the Association
A variety of ministers attend this meeting
"I am interesting in coming to visit Flint River Church. What should I expect?"
Thank you!
First, let me thank you for considering a visit to our Church. You should expect one of the warmest greetings you have ever received. We are a relatively small body of believers (50 to 60) who are close in Christian fellowship. I promise, if you come early or stay a few minutes late, you will receive a hearty welcome from our congregation.
Our Worship
Concerning the worship, it is our goal to "stick with the scriptures." We prefer to continue worship as it existed in the first century Church. Each Sunday worship service consists of 30 minutes of acapella congregational singing (worship), public prayer by selected brothers in our congregation, and the centerpiece of each service is preaching from God's Word. In fact, we devote nearly an entire hour to the preaching of the cross (from the King James Bible). 
Family Integrated
Do you have a family? We are delighted to tell you that our services are family integrated. That means your children are welcome to sit with you during worship, as was the practice during Jesus' personal ministry (Mark 10:13-14). We are accustomed to (and rather thankful to have) the sound of children during public worship. 
Our Message
Finally, I invite you to consider our message, the message of salvation by Sovereign Grace through Christ Jesus our Lord. We believe that Christ came to save a chosen people, elected by the Father from before the creation of the universe (Eph. 1:4, John 17:1-3). This work was finished by Jesus on the cross, therefore salvation was secured for an innumerable number of people from every nation and even every family or kindred (Rev. 5:9; 7:9). We believe our reception of the gospel message and any good works are FRUITS of this salvation (Gal. 5:22), as we are sinners in and of ourselves. 
Visit these pages to listen: Audio Sermons | Radio Broadcasts
Does this pique your curiosity? If so, we would love for you to prayerfully consider a visit to Flint River Primitive Baptist Church. How about this Sunday morning at 10:30? Get directions HERE! 

Choose from the options below for free online resources from Flint River Primitive Baptist church. 

Weekly Radio Broadcasts: Words of Grace is the radio ministry of Elder Ben Winslett, pastor of Flint River Church. Recent programs are available for download on iTunes of our website. For a station directory, click here. Drop us an email, and let us know you listen!
Audio Hymnsinging: This is an archive of acapella hymns from Flint River Church.
Audio Sermons: Online listing of selected audio sermons from the pulpit of Flint River Church.
Video Sermons: Messages are livestreamed each Sunday morning via our church Facebook page and then uploaded to the MarchtoZion Youtube channel.
Pastor's Blog: Our pastor occasionally posts thoughts from his studies through the scriptures online in the blog at Marchtozion.com. 
For written and audio resources to aid in your discipleship, visit Marchtozion.com. 
Flint River Church is located at 641 Moontown Road, Brownsboro, Alabama.


Directions
From Huntsville: Take Highway 72 east for approximately 5 miles and take a left onto Ryland Pike (near mile marker 104). Go approximately 2 miles and turn right onto Moontown road, just past Wears Chapel Baptist church. Flint River church is on the left just past a softball field.

From Decatur: Take Highway 20 east until it turns into I-565. Go approximately 15 miles on I-565 and it will turn into Highway 72. Follow the directions for Huntsville.

From Scottsboro: Take Highway 72 west and continue through Gurley to Moontown road (just past the Flint River bridge); turn right on Moontown road. Go approximately 1 mile and the church will be on the right.

From Birmingham: Take I-65 north. Get off at the I-565 exit and go east. Follow the directions given above for Decatur.

From Nashville: Take I-65 south. Get off at the Ardmore exit (exit# 1). Go left which will take you into Ardmore. The road will turn into Highway 53. Go approximately 25 miles until Highway 53 intersects with I-565. Take I-565 east until it turns into Highway 72. Follow the directions given above for Huntsville.

From Atlanta: Take I-75 north to Chattanooga. In Chattanooga, take I-24 west for approximately 20 miles. Take Highway 72 west to Scottsboro. Follow the directions given above for Scottsboro.
Taken from the 200th Anniversary History Booklet published in 2008...

The Origin of Alabama's Oldest Baptist Church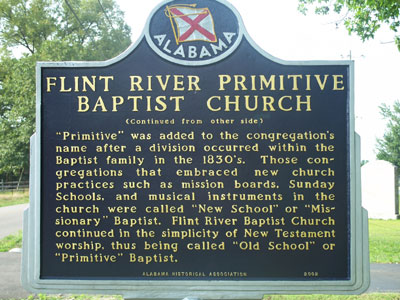 It is quite difficult in our day of fast food, high speed internet, cell phones, ipods, and satellites to imagine the culture and day to day lives of the men and women living in what was then known as Mississippi Territory, just 200 years ago...No electricity, no telephones, no air conditioners, no automobiles or airplanes. Life was hard, unforgiving, and often times brutal. As one local historian notes "Madison County was just emerging from the wilderness."  Alabama was not yet a state. America had not yet known a Civil war. The president of our great nation was Thomas Jefferson. The Revolutionary war was won only 25 years prior.

It was in this era and culture that a small band of twelve  believers gathered on October 2, 1808 in the home of Brother James Deaton in Killingsworth Cove, for the purpose of constituting a local Baptist Church in which to worship their Savior. This Church, the Flint River Baptist Church of Christ, would be the first Baptist church not only in Madison County, but also in what would later become the State of Alabama. Their first pastor was Elder John Nicholson, reportedly from the Boiling Fork Baptist Church in Franklin County, Tennessee. Nicholson would serve Flint River Church as Pastor until around 1830. Six years after her constitution date, Flint River Church joined the Flint River Association of Baptists, the association to which she belongs today.

Reminiscent of the first century church meeting from house to house (Acts 2:46, 1 Corinthians 16:19), Flint River Church met in the homes of her members until the Spring of 1809, at which time a building was constructed on the East bank of the Flint River, near the community of Maysville. An official deed to the land was not acquired until 1819, at which time the church purchased the land from Mr. William Derrick for the sum of $12. Copies of the deed are still available at the Madison County Courthouse.

Flint River Church was founded upon historic Biblical Principles which have been forgotten by many wearing the name Baptist today. At the time of her constitution most Baptist churches including Flint River Church, were Predestinarian concerning the doctrine of salvation and very simple in church practice. Baptists believed in fundamental Bible teachings such as election, predestination, redemption, regeneration, etc. Our brethren of that day rejoiced to know that their eternal destiny rested in the hands of the Sovereign Ruler of the universe, and was not contingent upon their own decisions or merit. One who visited a Baptist church of this era would observe a very simple worship service. The congregation would lift its voice in praise and worship of Almighty God. Men would bow their humble heads in awe, begging God for His mercy and thanking Him for His many favors bountifully showered down from His storehouse of Grace. Gospel ministers would stand and proclaim the Gospel to the Lord's people without gimmick or entertainment. The only Bible read was the King James Version – there was no confusion over multiple versions with contradicting language.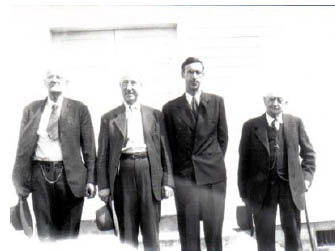 Whereas today we may experience the worries of a high paced society, the hindrances of that day were quite different. For example, on the day of the regularly scheduled business conference of April 1833, the minutes of Flint River Church record that there was "no meeting owing the river being up and rainy." For May of the same year the minutes record "The River is impassible, meeting disappointed." The very same situation occurred in January of 1834 when the meeting was cancelled due to "high water and rainy weather." There were also times during the civil war and during smallpox and flu epidemics in which services were cancelled. When is the last time we were hindered from anything due to an impassible river, a war on domestic soil, or a plague? I dare say never! Oh, how God has blessed us with such a hedge of protection!

While life was indeed hard, the Baptist faith was strong and sound! One might ask: Where could I find such religion today? The only place of which I know is in a Primitive Baptist Church. As our brethren of old have said, Come and see!



Articles of Faith, adopted 1808

- We believe in only one true and living God, the Father, the Word and the Holy Ghost.

- We believe that the Scriptures of the Old and New Testaments are the Word of God, and the only rule of faith and practice.  

- We believe in the doctrine of election and that God chose His people in Christ before the foundation of the world.

- We believe in the doctrine of original sin.

- We believe in man's impotency to recover himself from the fallen state he is in by nature by his own free will and ability.

- We believe that sinners are justified in the sight of God only by the imputed righteousness of Christ.

- We believe that God's elect shall be called, converted, regenerated, and sanctified by the Holy Ghost.

- We believe that the saints shall be preserved in grace and never fall finally away.

- We believe that baptism, the Lord's supper, and washing of the saints' feet are ordinances of Jesus Christ, and that true believers are the only subjects of these ordinances, and the true mode of baptism is immersion.

- We believe in the resurrection of the dead and in a general judgment.

- We believe that the punishment of the wicked and the joys of the righteous will be eternal.

- We believe that no minister has a right to administration of the ordinances, only such as are regularly baptized, called, and come under the imposition of hands by a presbytery.

- We believe that none but regularly baptized members have a right to commune at the Lord's Table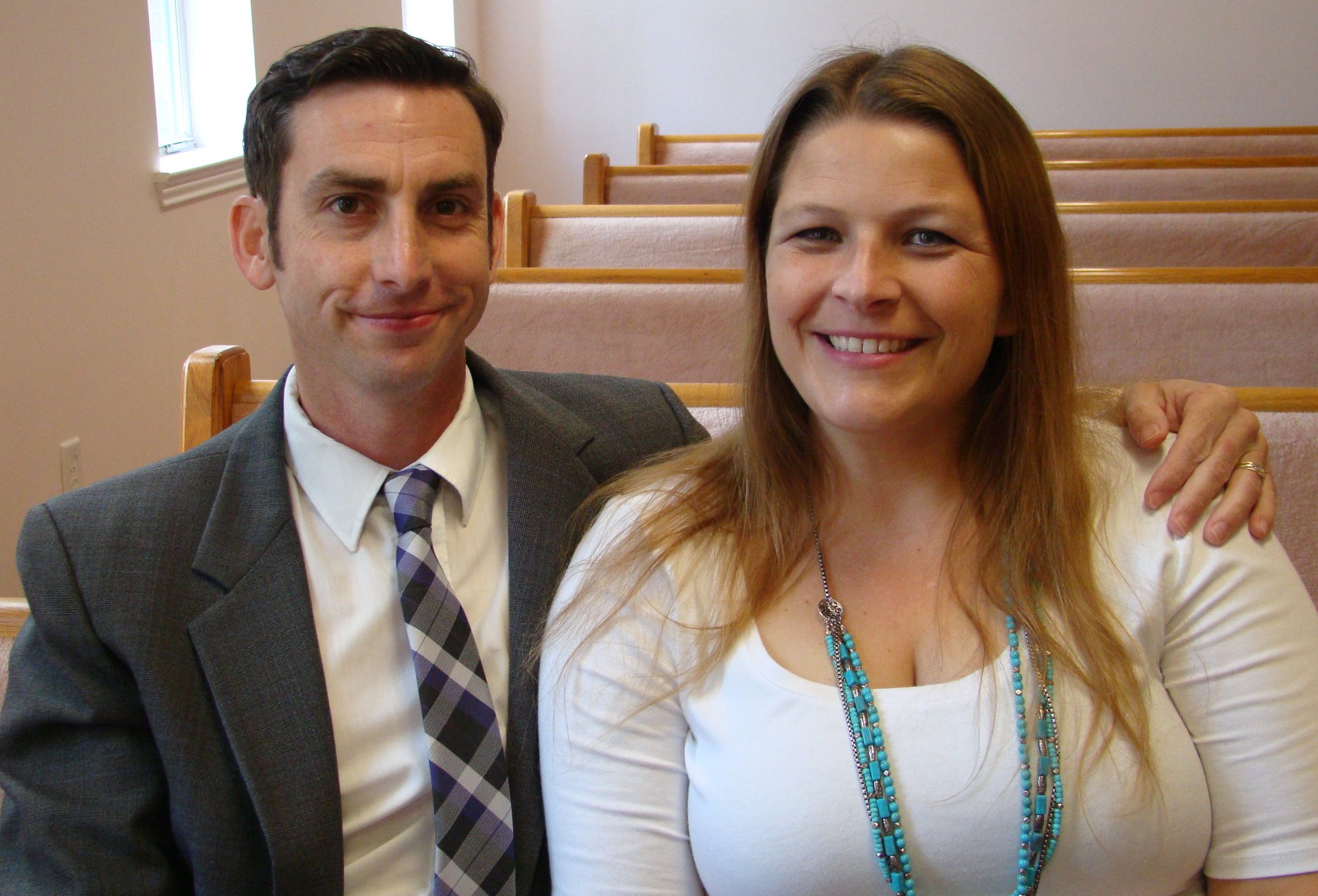 Benjamin C. Winslett moved from Birmingham, Alabama to Huntsville to serve us as pastor during the fall of 2006. Since January of 2008, he has directed a regional radio ministry, Words of Grace, which broadcasts locally each Sunday at 8:30 a.m. and 8:30 p.m. on 1140 AM and 101.3 FM. He also launched and edits a Primitive Baptist ministry website, www.marchtozion.com, which was founded in 2003.

Ben and his wife Rachel are blessed with five children, Ethan, Lydia, Elijah, Annabelle, and Micah. 

Click here to email our pastor.
Befriend our pastor on Facebook. 
Be Involved! The following is a list of the various areas of ministry at Flint River Church. 
Ministry of the Gospel/Worship - 
Click here for a schedule of worship opportunities.
On The Radio - 
Words of Grace, airs locally Sundays at 8:30 on 1140AM WBXR. Webcast and other station info: Click Here
Food Pantry - 
Our Church maintains a small pantry of nonperishable food items on site as a way of assisting those in need in our community (James 1:27). This supply is donated by those who attend our church. 
Sermons on Compact Disk - 
We are happy to provide audio copies of our services. If you missed a service and want to know what you missed, or you live in the area and are curious about what we believe, please make your request at our contact page (top menu).
Livestreaming and Video - 
Our messages are livestreamed each Sunday morning at around 11:00 AM via our church Facebook page, and uploaded to Youtube each week.
Our Pastor's Personal Ministry Site - 
Marchtozion.com was launched in 2003 by our pastor, Elder Ben Winslett. MTZ contains a wealth of information about Primitive Baptists including Historic Documents, an extensive Article Library, an Audio Sermon archive, a user-built Church Directory, and more. Curious about Primitive Baptists? Give marchtozion.com a visit!
Outreach - 
The membership of Flint River Church have attempted, as the Lord has provided opportunities, to assist with overseas evangelistic outreaches in Kenya and Tanzania Africa. Being involved in this work is simple: funds are collected here (primarily by Vestavia PBC in Birmingham) and utilized with wisdom in Africa for church buildings, sowing machines, water purification, etc. To give or find out more, visit this website.